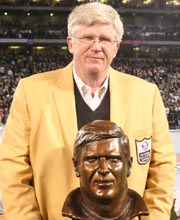 This fund will establish the David J. Casper Scholarship. David Casper has been a longtime supporter of the Summit Bank Foundation and David was actually the recipient of many college and post graduate scholarships because of his academic excellence.  He believes in our youth and seeks opportunities to mentor and encourage young people to receive a higher education which can be the platform for students to reach their greatest potential in life.
David Casper served as Notre Dame's Team Captain and offensive MVP during his senior year when he led Notre Dame to the National Championship in 1973. He was named NFF National Scholar-Athlete, a CoSIDA Academic All-American, a Walter Camp Academic All-American as well as an NCAA postgraduate scholarship winner. During his football career, he was named All-Pro and All-AFC five times, as well as being selected to play in five Pro Bowls. He was also chosen as the tight end for Sports Illustrated's All-Time Dream Team and the All-Century Team. He earned football's highest honor in 2002, when he was inducted into the Pro Football Hall of Fame in Canton, Ohio. A few recent awards were his Induction into the Chilton High School Hall of Fame in May 2017. Chilton, Wisconsin now holds the honor of being an official "Pro Football Hall of Fame City". In June 2017, David was also inducted into the Gridiron Greats Hall of Fame.
For more than 25 years, David has been a successful financial representative at Northwestern Mutual, currently residing in the Twin City Area. David's mission has always been to assist his clients by helping them identify their needs and provide appropriate solutions. He has earned many professional designations as well as numerous National Sales Achievement Awards during his career.
We are honored to establish the David J. Casper Scholarship and every year recognize an exemplary and deserving student from Bishop O'Dowd High School who will be the recipient.
Please email any inquiries about the David J. Casper Scholarship to sbfadministration@summitbanking.com