Shirley W. Nelson, Chairman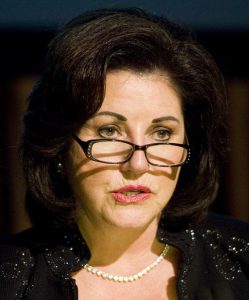 Chairman, Summit Bank Foundation
Shirley Nelson created and leads one of the most consistently highly ranked and highly praised independent banks in California. In 1982, Ms. Nelson and a group of investors created Summit Bank headquartered in Oakland, California. Summit Bank now has "three" branches (Oakland, Emeryville and Walnut Creek, California) and Ms. Nelson serves as Executive Chairman of the Board of Summit Bank and Chairman and CEO of Summit Bancshares, the holding company for Summit Bank.
Her one-on-one approach with her clientele, the special attention she pays to her employees, and the resulting financial successes enjoyed by Summit Bank have earned her extensive recognition. The Bank is in its 39th year of operation with 39 consecutive years of profitability and will celebrate its 40th anniversary in July 2022.
In 1998, Ms. Nelson founded the Summit Bank Foundation. The foundation has been dedicated to promoting volunteerism and corporate support for non-profits in the Bay Area.
The Foundation's core focus has been education and health – first by promoting Grade Specific curriculums in Financial Literacy for K-12 students through the Newspapers in Education program, and then by providing Oakland high school students the financial support they need to continue their education. Since 2005, the Foundation has provided 44 scholarships through the College Scholarship Program, and we currently have five funds which provide eleven scholarships to students each year. These scholarships will go on in perpetuity.
In 2013, the Foundation began supporting cancer research at UCSF Helen Diller Comprehensive Cancer Research Center and has established Cancer Research Funds to aid doctors in pursuing a cure for cancer. The Foundation has funded clinical trials for lymphoma, breast cancer, acute myeloid leukemia, and multiple myeloma.
Ms. Nelson has always had the drive to help others. As a testament to her philosophy towards civic commitment, Ms. Nelson's long list of honors includes:
Sponsor and Honorary Chair, Jewel Ball, American Cancer Society
Spirit of Hope Award from the Cancer Support Community.  Ms. Nelson received this award for her dedication to her community through various charitable organizations, including the Summit Bank Foundation, while being a cancer survivor herself.
Women's Hall of Fame Award, Alameda County, Oakland
Community Banker of the Year, Independent Community Bankers Association
Kennedy Laureate Award, John F. Kennedy University
Oakland Legacy Award, Oakland Jobs and Housing Coalition
Two-time awardee of One of the 25 Most Powerful Women in Banking award given by the U.S. Banker Magazine Award
Five-time awardee of the San Francisco Business Times' Women in Leadership Award
Named "One of the 50 Most Influential Businesswomen in the Bay Area"
Financial Women of the Year by the SF Financial Women's Leadership Association
Leading Women Entrepreneur's Global Award – Monaco
American Jewish Congress' Community Service Award, San Francisco
Heart Lung Institute's "Lady with a Heart" award, Oakland, CA
Honorary Doctorate of Public Service from John F. Kennedy University, Pleasant Hill, CA.
Last year she was honored by John F. Kennedy University with their Laureate Award, which is annually bestowed on individuals who embody the University's values through excellence in their respective fields and service to others and their community.
The Marjorie Magner Lifetime Achievement Award from U.S. Banker. The award recognized Ms. Nelson's outstanding personal and professional achievement, including her ability to inspire excellence in others and her commitment to support education, equal opportunity and diversity within the workplace and community.
Anti-Defamation League's Civic Commitment Award
Strong, Smart and Bold Award, Girl's Inc.