Neurointensivist
Professor of Neurology,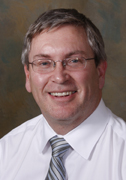 Daryl R. Gress Endowed Chair of Neurocritical Care and Stroke; Director, UCSF Neurovascular Services
Dr. Wade Smith, director of the UCSF Neurovascular Service, specializes in stroke prevention, the management of acute stroke, critical care medicine, cerebral blood-flow monitoring with transcranial Doppler techniques and the medical management of patients after stroke. As a neurointensivist trained in both critical care and neurology, he directs the UCSF Neurological Intensive Care Unit, a 16-bed ICU dedicated to the care and resuscitation of patients with neurological injury. Many of the patients he evaluates are referred for a second or third opinion, but he also sees patients on primary referral.
Dr. Smith earned a medical degree along with a doctorate in neurophysiology from the University of Washington. He completed a residency as well as a fellowship in critical care medicine at the University of California, San Francisco.