Radiologist, Nor-Cal Imaging
Dr. Stuart S. London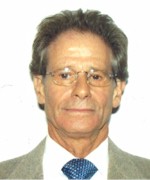 is an on-site radiologist at NorCal Imaging's Oakland center. He is a Board Certified radiologist who has been in practice in Oakland for over thirty years.
Dr. London received his Medical Degree from the University of Miami School of Medicine in Florida. He came to California for his internship and residency at Mount Zion Hospital and Medical Center in San Francisco. He did a Bone Radiology Fellowship with Dr. Ronald Murray at the National Orthopedic Hospital in London, England. He completed the first Body Imaging Fellowship at UC Medical Center in San Francisco (computed tomography and ultrasound). In 1978 he joined the Peralta Hospital radiology staff in Oakland (now part of Alta Bates Summit Hospital).
Dr. London independently opened an out-patient imaging center in Oakland in 1986 which he successfully managed until January 2011 when he joined NorCal Imaging's team of radiologists. He brings with him numerous years of radiology experience and a wealth of expertise.