CEO, Kinder's BBQ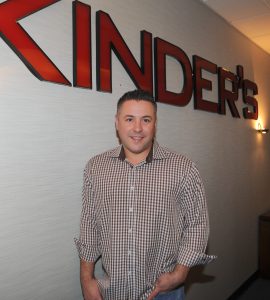 Born in Walnut Creek, California, on April 6, 1978, Joe Rainero has resided in the Bay Area most of his life. After graduating from Point Loma University in San Diego with a double major in Organizational Management and Business Administration.
While at Point Loma University Rainero began his career at BlueHornet, a digital marketing solutions company. At BlueHornet Rainero lead all business development efforts. This included a small business offering as well as a private label reseller channel of over 100 ad agencies. Rainero personally handled all Coca Cola, Red Lobster, TGI Friday's, Match.com, Evite, CitySearch, Baja Fresh, PF Chang's, and Many others.
In 2004, Rainero was a member of the merger and acquisition team which ultimately sold BlueHornet to a Digital River Inc, and e-commerce software company.
In 2002, Rainero and a friend purchased Kinder's trademark and franchise rights from the Kinder family. Over the next six years, Kinder's meat markets and restaurants expanded from 2 to 15 locations. Rainero decided that the restaurants were not callable on a National Level. In an effort to expand the brand, Rainero sold all Kinder's restaurants and in February 2008, he acquired all retail rights for all Kinder's product and intellectual property.
Rainero and the Kinder's team have expanded $500,000 in sales in 2008 to a current run rate of $30,000,000 in sales, and Kinder's is currently poised for a national expansion into Costco, Safeway, and Whole Foods.
Rainero is the CEO of Kinder's and the CEO/Founder of Ignite Farm or "IF". IF is a small Private Equity Fund based on seed funding for start-ups in the Digital and Consumer Packaged goods market places.
Rainero resides on many Boards. His favorite is the Summit Bank Foundation where he has held the position of President since 2010. Summit Bank Foundation raises these funds through the Joe Morgan Celebrity Golf Tournament and the annual Red and White Ball held each Holiday Season.
Rainero is an avid sports fan and enjoys golf and traveling. Rainero enjoys working with entrepreneurs to help them manage the individual challenges they face.