The Summit Bank Foundation says Good-Bye to Our Honorary Chairman – Joe Morgan
'The best player I ever saw': Cincinnati Reds Hall of Famer Joe Morgan dies at 77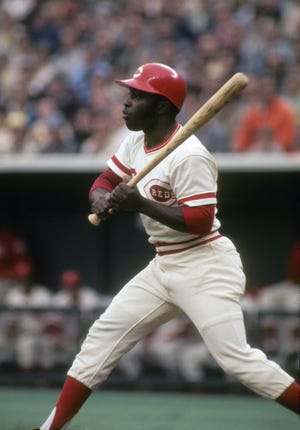 By Bobby Nightengale
Cincinnati Enquirer
Hall of Famer Joe Morgan, a 10-time All-Star and two-time World Series champion with the Big Red Machine, died Sunday, October 11, 2020 at 77 at his home in Danville, California.

He died from a nerve condition, a non-specified polyneuropathy, according to a statement from his family.

Morgan played eight seasons with the Cincinnati Reds (1972-79), and he was selected to the All-Star team each year. He was named the National League Most Valuable Player in 1975 and '76, and he earned five Gold Gloves for his exceptional defense at second base.

He is the first of the "Great Eight" from the Big Red Machine to die.
"Joe wasn't just the best second baseman in baseball history, he was the best player I ever saw and one of the best people I've ever known," Johnny Bench said. "He was a dedicated father and husband and a day won't go by that I won't think about his wisdom and friendship. He left the world a better, fairer, and more equal place than he found it, and inspired millions along the way."

Nicknamed "Little Joe" because he was 5-foot-7, 160 pounds during his playing career, Joe Leonard Morgan was inducted into the National Baseball Hall of Fame in 1990 on his first year on the ballot.

Considered the best second baseman of all-time, Morgan held records for home runs (268) and games played (2,649) by a second baseman at the end of his 22-year career. His trademark was flapping his left arm when awaiting pitches in the batter's box, which is noted on his Hall of Fame plaque. He recorded 2,517 hits and 689 stolen bases, owning the Reds' record for steals (406).

"I have never seen anyone, I mean anyone, play better than Joe did this year," manager Sparky Anderson said during the 1975 season.

"Joe was a big part of my family during the time we played together and that remained the same long after our careers ended," Tony Pérez said. "He was one of those guys who was just special on so many levels in all that he did. Joe was a great player, a great teammate and a great person. Our group shared some very special moments and experiences that will remain with us forever. At the moment, it's just hard to put into words how much he meant to so many, and how missed he will be."

For another generation of baseball fans, Morgan was known for his long career as a broadcaster and his distinct voice. He was the color commentator alongside Jon Miller for 21 years on ESPN's Sunday Night Baseball. He was a part of additional national broadcasts with NBC, ABC and CBS, and he called many World Series games.

Born in Bonham, Texas in 1943, as the oldest of six children, Morgan moved to Oakland when he was 5 years old. He was a standout in high school but there were always concerns about his small stature. Bill Wight, a scout for the Houston Colt .45s, gave Morgan a chance when he signed him in 1962.
He made his Major League debut as a 19-year-old in 1963 and he finished runner-up in the Rookie of the Year voting in 1965. He was a two-time All-Star before he was traded to the Reds. He joked in his Hall of Fame induction speech that he needed to dispel the rumor that he just learned how to play baseball in Cincinnati, but he said the game was always about winning to him.

Morgan had served as a special advisor for the Reds since 2010, but he dealt with health issues in recent years. He had complications from a knee replacement, which forced him to use a cane, and he had a bone marrow transplant for an illness.

The Reds, who inducted Morgan into their team Hall of Fame in 1987, retired his number on June 6, 1998 and dedicated a statue to him outside of Great American Ball Park in 2013. The statue, which is located at the corner of Joe Nuxhall Way and Second Street, depicts him stealing a base.

"There was Jackie Robinson and then there was Joe Morgan," MLB Network's Harold Reynolds said. "Joe opened the door for GMs to imagine having a player like Joe. That opened the door and the second base position for Willie Randolph, Frank White, Lou Whitaker, Bump Wills, Johnny Ray, Mark McLemore, Alan Wiggins, Delino DeShields, Bip Roberts, Ray Durham, Jerry Browne.

"These were all African-American starting second basemen in the big leagues when I played. Joe's influence on the '80s and '90s."

Morgan is survived by his wife of 30 years, Theresa, their twin daughters Kelly and Ashley, and his daughters Lisa and Angela from his first marriage to Gloria Morgan.

Memorial service details haven't been set. Morgan's family asked, in lieu of flowers, to consider making a gift in memory of Joe Morgan to the University of California, San Francisco supporting Leukemia research.
To make a donation, visit https://giving.ucsf.edu/ or send it payable to "UCSF Foundation" to UCSF Foundation, PO Box 45339, San Francisco, CA 94145.